Macintosh Bulk Dump Utilities and Instructions
There are many free and inexpensive programs for handling bulk data on a Macintosh computer. Some of them can be found at Harmony Central's MacSoftware Page.
I use a combination of BulkSysex for recieving bulk data from my PSR-500, and SendIt for sending bulk data from the the Mac to the PSR-500. There are alternative approaches that may work better for you. Digging around at Harmony Centralmay be of some help. Of course, both of these programs will work on the PSR-400 as well. Both of these programs are FREEware. Apple Midi Manager is required to use SendIt. Bulk Sysex is an older program that bypasses the Midi Manager and connects directly to the serial port you specify.
This discussion assumes that you have a midi interfaceconnected to one of the serial ports of your computer, and that you have connected your Yamaha to the midi interface with midi cables. Once you have that, you can use the bulk dump and midi files on this site. Bulk data is stored in the Yamaha PSR-400/500 PAGE MEMORY banks. Toreceive a bulk dump from the Yamaha you could do the following;
Launch Bulk Sysex.
In the Midi menu set the Port to the one which your midi interface is connected to.
To be sure that you have a midi connection, you can use the Mouse Play option. It's fun!

Choose Bulk Sysex from the Midi menu.
Set the file type to BULK, so that SendIt will recogize your dump file.
Click the Recieve button.
Now, push MIDI BULK DUMP on your Yamaha, and select a PAGE to dump.
The Yamaha read out will indicate a dump in progress.
If your setup is correct, the Bulk sysex file size will increase.
It is expected that PSR-400 dumps are smaller than PSR-500 dumps.
In about 30 seconds the dump will be finished. The window will look something like this.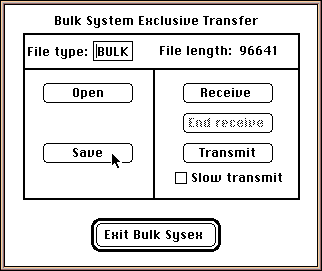 Save the dump to your hard drive and you are finished!
Bulk Sysex may be too fast to send the data back to your Yamaha.
To send the file back to the Yamaha, just quit Bulk Sysex and drop the file on SendIt.
---
If you have questions or contributions about this page, pleaselet me know.